08 Feb

V & A's intimate palace wedding
When two ancient and unique cultures mix and merge as one
V and A wedding was like 3 days of heaven! A mix of cultural richness and vintage vibes throughout we witnessed and experienced one the best celebrations of life.
V comes from Lithuania with career as a professional in textile industry with remarkable achievements in body fitness while A is a Lawyer and is soon publishing his second book, they met at a gym in Delhi 3 years ago and in their own words 'Birds of same feather flock together' this realisation was an instant hit and as they say, 'a match made in heaven' cheesy as it sounds it's so true for them, you know it the moment you see them train together

V and A had booked us more than 8 months in advance to make sure we had enough time to be involved at every stage of wedding planning from their décor to entries and portrait sessions everything was planned keeping in mind best experience for their loved ones and photography. They did not have an event planner as Samode hotels were taking care of all the logistic arrangements within Samode Bagh and Palace. A is a bit of a control freak and had taken charge of rest of the arrangements while V put her creativity and art at best use by taking care of every lil detail to the point to create best experiences for their loved ones and everyone involved.
Their 80 guests arrived from all over the world, A's phone malfunctioned on the day of Mehandi due to server change at work and it started turning into a chaos as A's phone kept ringing and he had to answer every call as his phone showed no names associated with numbers ! it was a beautiful chaos, V & A remained sport throughout the celebration helping us get the best photos and footage for the beautiful story that we hope to share here.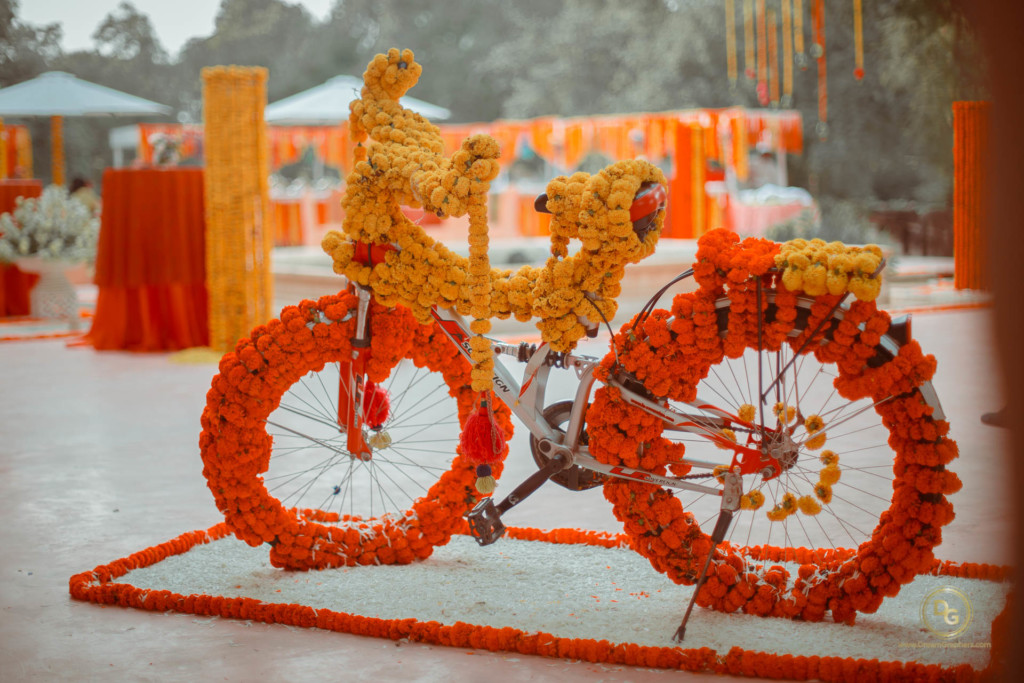 There were no rehearsal for this entries though, in fact it wasn't even planned for that matter. this spontaneous entry on camel back reflects our beautiful bride and groom's adventurous souls and free spirits !
The responsibility of serving cuteness was taken over by their beloved baby Poco and he made sure to flaunt his swag at every event <3
V's father walked her down the aisle as in western tradition and A received her lovingly followed by their Jaimala
Having the best rooms allocate to photography team did help us a great deal to achieve some of the beautiful photos from artistic point of view.
Samode is exquisite, surreal, enchanting and magical and with its old-world accent, It's definitely a wedding photographer's delight too.
from the intricate murals on the historic walls to luxuriously soft carpets in uniquely decorated suites, Samode effortlessly takes you on a surreal journey through the history; amidst royal splendor with its vintage chandeliers and antiques; Its a perfect setup to celebrate your timeless romance while you sink in beautifully carved marble Jacuzzi overlooking Aravalli or simply enjoy a cocktail by the pool bar watching silent mountains.
Team at Samode hotels is outstanding, courteous and extremely helpful – they played an integral part in making sure the wedding was as dreamy as V and A had imagined
And a big thank you to V and A for being so loving, amazing and considerate and all of their guests for allowing us to be part of their beautiful celebration of love and enriching us with experiences that we shall cherish for a lifetime