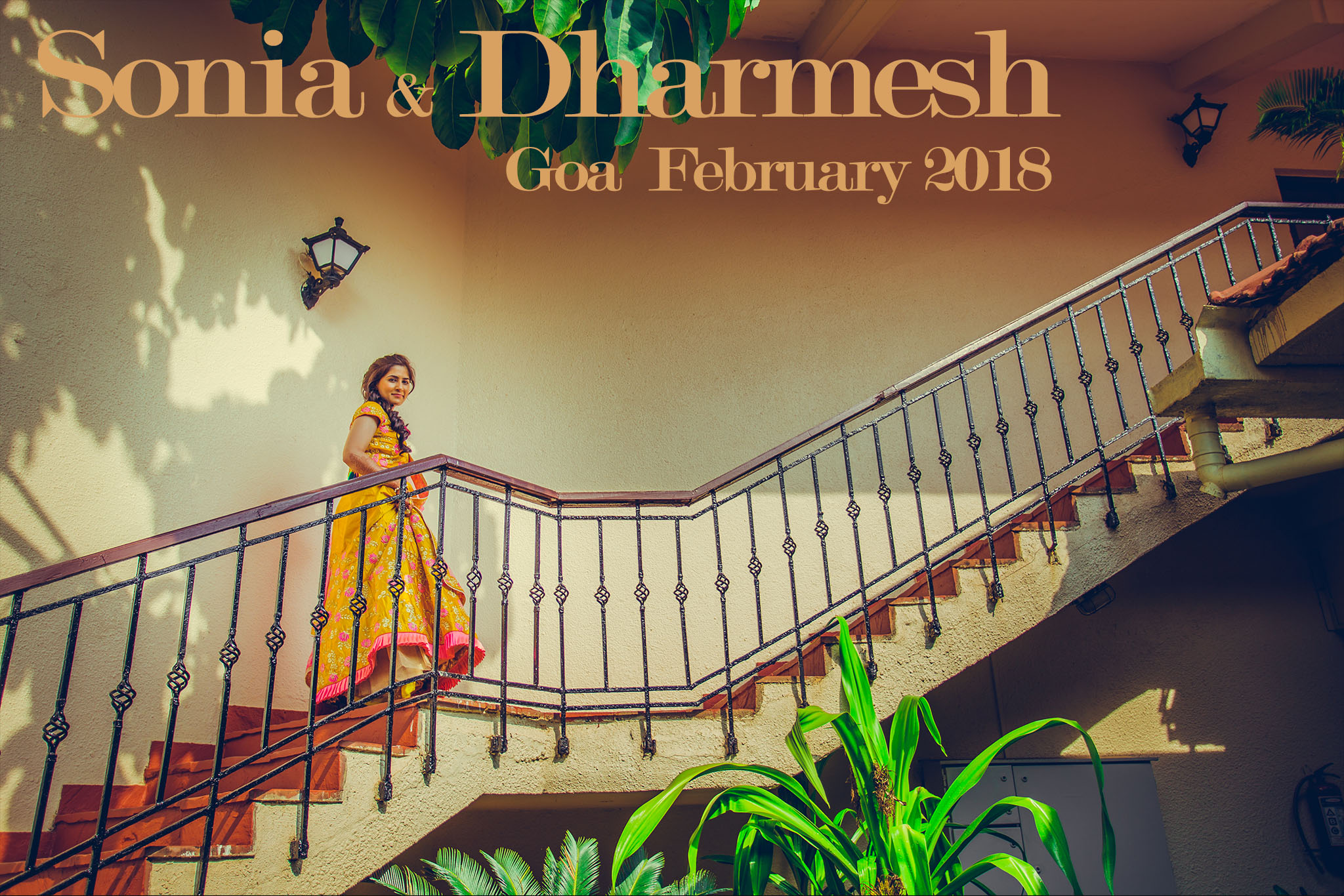 29 Jun

Sonia x Dharmesh – Goa

Because of such a diverse culture, each and every wedding in India is unique in its own way. But with all the fun, there comes a tiny bit of problems. Arranging a successful wedding is in itself is a big task. One such wedding was of Sonia & Dharmesh.

The couple always wanted a beach wedding. So, the search for an ideal beach property began almost a year ahead of the wedding. Sonia was the brain and Dharmesh was the body behind this search. After a few trips to Goa, D was impressed and convinced with one property, the Ramada Caravella Resort. And the place was a right fit for them according to the requirements.
After 10 months of vigorous planning, coordinating, make up trials, invites, shopping and meeting mehndi artists, finally the D day had arrived for S & D. While searching for beach properties Dharmesh would often take trips to Goa and scan the resorts that would have been shortlisted by Sonia. And the wedding destination was also on the verge of change as they couldn't find a good property taking into consideration various aspects and limitations that they had, to name a few, budget, distance from Airport, food, pick up drop off facility, flexibility over various matters considering the number of guests and events. Just then on one such trip to Goa, Dharmesh came across the stunning beach resort, Ramada Caravella and finalized it as well.
THAT'S HOW THE JOURNEY BEGAN FOR S & D:
In their own words, "something fits when we're together." Although they met through some common friends, but they felt a strong connection when S & D encountered each other for the first time. After that, both just needed some excuses to meet each other. The journey from friends to lovers developed over a very short time. As Sonia says, "Our best time together was late night chats on the couch with a few drinks and melodious music." But the strong urge to get married and tie the knot for life felt when both families started looking out for prospects for S & D. Remembering that moment, he says, "if ever I will get married then it will be with her only."
After ten months of rigorous preps, finally the best day of their life arrived.
Ever since their first meeting, Sonia & Dharmesh felt that instant connection with each other in that spur of the moment, it was as if they had swallowed down a magnet and were inseparable. Since they belonged to the same city and thanks to their mutual friends they would quite often bump into each other at parties and other gatherings. Their journey began from being strangers to confidant to lovers. "we are friends before and after our wedding. Our best times together are late night talks on the couch with a  few drinks and some melodious tunes." As said by Sonia. The moment of realization of their feelings for one another occurred when they were asked to look at other marriage prospectus. And that's when Dharmesh said, " if ever I will get married then that will be with you."
FROM THE BRIDE:
From the outfits to photography, everyone was there to help me. After the venue, the most important struggle was perfect outfits and wedding photography. My cousin, a really good designer, helped me a lot in choosing right outfits for different events. While DreamGrapher team came on board to capture the beautiful moments and make the wedding a memorable. I picked up my wedding lehenga from ASAIANA – DELHI. Siddhivinayak team created the magic with its event management skill and turned each and every event into a beautiful memory. Also, I got the best team for catering and mehendi.
My cousin is a Designer so she did the personalisation for me. She made the dj, mandva outfit for me and I picked the fabric from markets in Delhi. Also she stitched and did some customisation on mehendi outfit that I picked from the famous chandni chowk. The wedding lehenga was from ASIANA – DELHI. While I was looking for photographer, one of the guys suggested siddhivinayak team for event handling and same was suggested to us by the resort as well and so they became the obvious choice. Catering was in-house by Ramada Caravela and we are so delighted that we chose Ramada Caravela, their food was amazing (food being the most crucial part of the wedding). My make up artist was suggested by event team and also Ramada has an in house make up team which is superb. Only once i had to go Goa for the makeup trial and meet the mehendi artist and also wanted to have the feel of the place in a whole. It was a fun filled trip as all my cousins came along as well.
About DreamGrapher
I read an article about DreamGrapher somewhere. The team was listed among the best upcoming photographers in India. When I reached out to them and spoke to Shraddha(the heart and soul of DreamGrapher), I immediately had faith in her talent. And I must say, I made a right choice. During the wedding, she and her team was everywhere right from the beginning and captured beautiful and timeless memories for us.
– i had read an article about them somewhere saying they are the most talented photographer according to place and also I was looking for someone local And found them. Then i spoke to shraddha and I knew, she was the one to capture our memories for lifetime. And it all went so smooth that we didn't even realise that we were there to meet professional photographers, they were friends instantly. We just knew, we don't have to worry about anything
Planning the wedding had several ups and downs. But D and his cousins were a big help and shared responsibility with me. A big thank you to them as well.
But the whole wedding planning was super fun and exhausting! But i had a lot of support from D and his cousins. They were a part of everything I did. From planning and designing the invites to food menu, clothes, mehendi, make up, decor, dances every responsibility was assigned to someone and they just did an amazing job.
VENDORS:
Venue- Ramada caravella, Goa, India 
Wedding planner- https://siddhivinayakevents.com/
Wedding day outfit- http://www.asianacouture.com/
Photographers – http://dreamgrapher.com/